2007
---

Richard's been messing around with making a digital video movie for the past eighteen months and we've now posted at YouTube two clips from it. The new one is thirteen minutes long so is divided into two parts to ease loading. You can see it at YouTube as "Age Monologue, pt. 1" and "Age Monologue, pt. 2". As the title indicates, Richard is the only actor in those clips, and the subject is aging.

The other clip was posted in the summer and is a five minute scene played by Hell and Melissa Tomjanovich. It's at YouTube as "Melinda's Neck". (Richard murmers a bit in this clip and on some systems some of the dialogue can be hard to make out. But you can find a transcript of the scene by clicking the "more" in the upper right of the screen where it reads "Trouble hearing it? See transcript...") The camera man and software wizard on the shooting is Justin Kramer.

Hell has been doing more work with his friend Christopher Wool. A big photographic spread in Whitewall magazine about Christopher features a text comprising Hell's freakish attempt to speak for the painter, "What I Would Say If I Were Christopher Wool." Christopher's just established his own website too, at the URL wool735.com. Richard and Christopher have also been collaborating on a series of images to be published as a book in the spring of 2008 by JMc & GBH Editions. A small selection of the images will also be printed as a portfolio of silkscreens.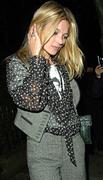 There to the left is actually Kate Moss in a Richard Hell t-shirt, which shirts are available exclusively from us. British gossip columnists didn't recognize Hell, mis-identifying the shirt as picturing her new boyfriend J. Hince from the Kills.

Richard's New York Times op-ed piece on CBGB's closing has been chosen for Da Capo's Best Music Writing 2007. You can find half the writing in that anthology online. The book's due out in late October. Richard'll have a big essay -- 5000 words (10-15 pages) -- in a book tentatively entitled Rock & Roll Cagematch, edited by Sean Manning, to be published in mid-2008 by the the Random House imprint Three Rivers Press. The concept of the book is to have writers each pick a pair of bands to compare, with the stipulation that one must be declared the winner. Richard's idea was to pit the Velvet Underground against the Rolling Stones (he got them in the same weight class by limiting the

discussion to the albums each band made 1966-1970, the life span of the Velvets). Hell also wrote the foreword to the massive new photo book from Harry Abrams called Punk 365, edited by Holly George-Warren. The book is like a high school yearbook of punk, except the pictures are big and crazy. Hell's essay nails the subject too, in two pages. Here's a review.

Richard read with Luc Sante at the Central Branch of the Brooklyn Public Library on October 11th. The reading series is curated by Donald Breckenridge, fiction editor of the Brooklyn Rail, which paper sponsors the series. The October issue of the Rail features an excerpt from Hell's "quasi-memoir". It's two chapters that cover ages seventeen to nineteen (1967-1969), more or less -- starting shortly after Richard dropped out of high school and came to New York. Hell will be publicly interviewed and will read from his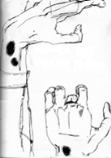 works in Den Haag, the Netherlands on November 22 at Crossing Borders festival [subsequent note: here's a picture of Hell onstage at the Hague reading] .

A recently published short interview with Richard is interesting, but most notable for its venue: the third issue of the brilliant home-made art/literature zine Flesh World published and edited in Norway by the barely legal (twenty year old) British-Norwegian artist Kier Cooke Sandvik. Kier has a set of graphic material from the run of the magazine posted at Flickr (be sure to check his other sets as well). His blog is also exceptional. [posted October 14, 2007]
---