2003
---

We now have the final schedule for The Scowl Film Series that Richard is curating at New York's Pioneer Theater (155 East 3rd Street at Avenue A, tickets $9.00 -- $6.50 for seniors/students --, phone 212.254.3300) for the "Howl!" East Village Arts Festival towards the end of this month. Here is Richard's explanation of his concept for the festival:

"The Scowl Film Series is a kind of flickering glower from the direction of the East Village mid-'70s. It's more or less the set of movies that occurred to me when I recalled life on the Lower East Side at that time, specifically the original music period at CBGB's and Max's. In fact, some of the movies actually supplied words and song ideas to the bands -- the Ramones' "gabba gabba hey" chant and preoccupation with pinheads came from Freaks, the Johnny Thunders song title "You Can't Put Your Arms Around a Memory" comes from the Honeymooners episode -- but mostly it's just that the films are ones that I associate with that era or its spirit and style. It's a kind of poem of "punk" made from movies."

The final schedule is as follows:
[Note: all fourteen feature films will be screened in 35 mm prints]


Wed Aug 20 9:30 introduced by Richard Kern:
"You Killed Me First" (Richard Kern, 1985, 12 min.) plus
FREAKS (Tod Browning, 1932, 64 min.)

Thu Aug 21 9:30 introduced by Jim Jarmusch:
REBEL WITHOUT A CAUSE (Nicholas Ray, 1955, 111 min.)

Fri Aug 22 9:30 introduced by Richard Hell:
THE DEVIL PROBABLY (Robert Bresson, 1977, 95 min.)

Sat Aug 23 9:30 introduced by Thurston Moore:
TAXI DRIVER (Martin Scorsese, 1976, 113 min.)

Sun Aug 24 9:30 introduced by Nick Zedd:
"Thust In Me" (Nick Zedd & Richard Kern, 1984, 8 min.) plus
THE NUTTY PROFESSOR (Jerry Lewis, 1963, 107 min.)

Mon Aug 25 10:15
FRANKENSTEIN (James Whale, 1931, 71 min.)

Tue Aug 26 9:30
WELCOME TO THE DOLLHOUSE (Todd Solondz, 1995, 88 min.)

Wed Aug 27 9:30 introduced by Jim Marshall:
KISS ME DEADLY (Robert Aldrich, 1955, 106 min.)

Thu Aug 28, 9:30 introduced by Nick Tosches:
NIGHTMARE ALLEY (Edmund Goulding, 1947, 110 min.)

Fri Aug 29 9:30 introduced by Danny Fields:
BAND OF OUTSIDERS (Jean-Luc Godard, 1964, 97 min.)

Sat Aug 30 9:30 & Midnight
THE TEXAS CHAINSAW MASSACRE (Tobe Hooper, 1974, 83 min.)

Sun Aug 31 9:30
PICKUP ON SOUTH STREET (Sam Fuller, 1953, 80 min.)

Mon Sep 1 9:30
THE HONEYMOONERS: "Better Living Through TV" (Frank Satenstein, 1955, 22 min.) plus
STRANGER THAN PARADISE (Jim Jarmusch, 1983, 89 min.)

Tue Sep 2 8:00 (free beer / pizza reception in theater "Den of Cin" at 7:00)
"Un chien Andalou" (Luis Bunuel & Salvador Dali, 1929, 16min.) plus
GUMMO (Harmony Korine, 1997, 89 min.)

We also have up a page of short bio notes for each introducer as well as the Hell-designed four separate 13" x 19" posters for the series. And now Richard's program notes for each film as well.

Other Hell activities this month include the publication of two articles in the Village Voice: one is on Lester Bangs and his soon-due new collection of writings, Mainlines, Blood Feasts, and Bad Taste [8/7/03 note: the Voice has now posted the Bangs article online ]; the other is about Robert Bresson). They'll appear in the two mid-month issues of the paper. Also, coming soon (due September) will be the Harper-Collins book on the blues that will accompany the PBS series produced by Martin Scorsese on the subject. Richard's contribution is about the Rolling Stones as a blues band. [posted August 2, 2003]

---

This late summer Richard will be presenting a different film/program an evening for two weeks (Wedn., Aug 20, through Tues., Sept. 2) at the Pioneer Theater, New York, in a series he is curating for the first annual "Howl!" East Village Arts Festival. Hell will write program notes and most films will also be introduced in person by filmmakers and musicians. Hell refuses to divulge the loose concept he had in mind which generated the tentative list of films in the series: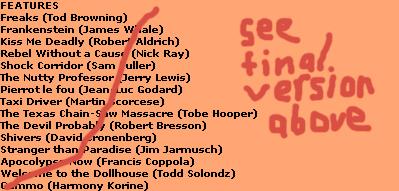 SHORTS
Un chien andalou (Luis Bunuel and Salvador Dali)
Honeymooners ["Better Living Through TV" episode]
You Killed Me First (Richard Kern)
Thrust in Me (Richard Kern and Nick Zedd)

Two-thirds of these films are confirmed, others will have choice replacements: watch this space and the above two sites for developing details.

Hell was commissioned by Nerve.com, the upscale erotics site, to write an essay for their recent issue devoted to "Sex and Drugs" (read it while it's still offered free).

The first two-and-a-half chapters of Hell's novel-in-progress can be read in the anthology of fiction by rock musicians edited by Greg Kihn called Carved In Rock that was recently published by Thunder's Mouth Press. Other writers in the book include Jim Carroll, Lydia Lunch, Kinky Friedman, Ann Magnuson, Steve Earle, Wayne Kramer, Suzzy Roche, Exene Cervenka, John Entwistle, and Ray Davies. [posted June 18, 2003].

---

Richard got married! A few details and pictures are posted at the Forum.

On Saturday, March 1 at 4:30 PM Richard will give a short talk to introduce a screening of Orson Welles's film The Lady from Shanghai for the Cine-Club in the Auditorium of the YWCA, 610 Lexington Avenue @ 53rd Street (admission $7.00, information 212.735.9717). [We now (3/8/03) have up the text of Hell's Welles talk.]

Hell participated in a panel on the subject "Acting in Public: Expanding Cultural Space" as part of the daylong initial public meetings of the anti-war coalition of writers and artists Poetry Is News held at St. Mark's Church in New York on February 1. Richard writes, "My wife knew I was working on the talk for the panel and she said, 'You're not going to call Bush "stupid" are you?' And I said, 'I don't know, I might.' 'You can't call him "stupid."' 'Why?' 'Because it's like calling someone "fat" or "ugly,"' like he couldn't help it, so it was too rude... So a couple of days later I tell her, 'I'll have to tell that story about you and calling Bush "stupid" when I talk--that was so funny.' And she said 'You don't understand. He's mentally handicapped. It's amazing where's he's gotten despite it...' Like our government is the Special Olympics or something! Ha ha! Not far wrong..."

The cover story in the current issue of Bookforum, the book review sister-magazine of Artforum, is Richard's review of The Conversations, poet and novelist Michael Ondaatje's volume of interviews with Walter Murch, master film editor (of many Coppola movies for instance).



A chapter from Richard's novel-in-progress has just appeared as a pretty if ephemeral little pamphlet entitled "2-D Beckoning" from Angry Dog Midget Editions out of Colorado Springs, CO. The chapter is an odd quasi-essay the entirety of which is on line in a slightly earlier version at the poetry magazine can we have our ball back. The editor of Angry Dog Midget Editions is poet (and artist and musician) Noel Black. Noel wrote this review of Hell's Hot and Cold back in November, and just this month drew the picture for the new Hell t-shirt. I think Richard and Noel are in love. [posted February 8, 2003]

---