2005
---

Rabbit Duck, a book of 13 collaborative poems by Richard Hell and David Shapiro is now out (you can see the cover and a couple of the poems and order from us). It's a beautifully made book, both physically and literarily. Richard, the formally unschooled, but obsessively poetry-driven novelist and songwriter / singer (and film critic), and David, the child-prodigy violinist, poet, art-critic, and author or editor of many books (including, with Ron Padgett, the epochal 1970 An Anthology of New York Poets, which inspired Richard), make a strange creature, but an elegant, as well as funny, one.

Hell will be doing some traveling this winter/spring, making a number of appearances in various contexts. Here's the list to date:

TROMSØ, NORWAY, Sat Feb 11, 5pm
public interview at the by:Larm Music Festival

SEVILLE, SPAIN, Fri Mar 3, 9pm
reading in English (translations screen-projected), talking via interpreter, over instrumental music compilation from archives of Hell's bands; at Festival Internacional La Música y la Palabra festival of the spoken word

PARIS, FRANCE, Fri, Apr 7, 7:30pm, 6,00 € [order tickets]
a reading at the Cinémathèque française in conjunction with the "Aussi haut que nous le pourrons" issue of the French literary magazine Monsieur Toussaint Louverture, after which will be screened the 1978 film in which Richard starred, Final Reward

MINNEAPOLIS, MN U.S.A., Thu Apr 20, 7:30pm, FREE
a reading at the Walker Art Center in the series Free Verse, co-sponsored by Rain Taxi Review of Books

NEW YORK, NY U.S.A., Wed May 3, 8pm, $8, $7 students and seniors, $5 members
a reading at St. Mark's Poetry Project, 131 E. 10th St., New York City, in honor of Thurston Moore's literary magazine, Ecstatic Peace, featuring six contributors to the magazine -- Richard, Thurston, Jutta Koether, Charles Plymell, Byron Coley, and Christina Carter -- each reading for a few minutes

PITTSBURGH, PA U.S.A., Sat May 27, 8pm
a reading at the Andy Warhol Museum on opening night of the the Downtown Show (see second paragraph below), which will be installed in the Warhol Museum for a run May 27-Sep 3, 2006

Hell was interviewed live, on October 3rd, in an L.A. radio studio by Sex Pistols guitarist Steve Jones on "Jonesy's Jukebox," Indie 103.1, and we have the interview up on site in both streaming (RealPlayer) and mp3 formats. Hell was phone-interviewed by R.U. Sirius for a MondoGlobo internet and podcast show in November. That show lasts about 35 minutes and can be downloaded from here though it'll take a while, depending on the speed of your connection.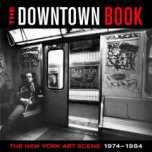 Richard's musical history is heavily featured in The Downtown Book, edited by the distinguished Marvin J. Taylor and published by Princeton University Press. It's a profusely illustrated account of the explosion in music, graffiti, painting, performance art, and writing that took place in downtown New York 1974-1984. Hell contributes a short recollection of the period to the book, as do several other artists who were present then and there, including Ann Magnuson, Eric Bogosian, Gracie Mansion, Lydia Lunch, Sarah Schulman, and most notably eloquently, Lynne Tillman. The book also contains essays by critics and academics. An accompanying art show will be running at NYU's Grey Gallery (100 Washington Square East 212.998.6780), and an archive artifact exhibition at the Fales Library (E. H. Bobst Library building, 70 Washington Sq. South, third fl. 212.998.2596), Jan 10-April 1. Richard will participate in a free reading, along with Eric Bogosian, Bernard Gendron, Roselee Goldberg, Gracie Mansion, Michael Musto, Sur Rodney (Sur), and Chi Chi Valenti, at the Fales on Tues., Feb. 7, at 6:30 PM, in conjunction with the book and shows.

Hell had a happy time on his London, New York, and then U.S. west coast reading tours for his new novel Godlike this past summer (schedule below). A few attendees sent reports to the Forum: Hannah sent a "magical" one from Patti Smith's Meltdown Festival in London (which reading was also described at length by Richard Cabut in 3AM Magazine); S. Derkins was at Barnes & Noble in New York; and Jacki Ramirez describes the reading at Beyond Baroque in Venice, CA (L.A.). Richard added his own account of the readings because Forum visitors kept asking what they were like, and we put up some pictures from the Godlike summer.

In the past few months Richard's had a lot of odds and ends in magazines, including two poems (that would appear in his novel Godlike) in the first issue of Vincent Katz's substantial and ambitious new poetry / art magazine Vanitas (here's a review of it at the Evergreen Review -- yes a new version of the 1960's "beat" magazine from the original Grove / Evergreen publisher, Barney Rosset). You may write vanitas@el.net for info about obtaining copies. Earlier this year, Hell interviewed Jackie Budin, the costume person or "dresser" on Robert Bresson's 1977 Le Diable probablement (The Devil Probably), regarding the experience of working with Bresson on that movie. The interview was arranged by and published in doingbird (issue #9), a plush art / fashion magazine from Australia, and very hard to find in the U.S. unless you're a supermodel, which we hope you are (not). For BlackBook's music theme issue "Guilty Pleasures" confessional, whose contributors included Irvine Welsh, Asia Argento, Jonathan Ames, Devendra Banhart, and Nick Zinner, Richard bared his shame. Hell also had an article in the sickly mainstream Best Life magazine, Oct / Nov issue. It was the central feature of a section devoted to the history and current travails of CGBG (Which, if you haven't heard, will definitely be closing within a year, and most likely opening some kind of franchise branch in Las Vegas! This is really true.). The magazine did a little rude editing of Hell's piece, but it's good anyway. An interesting thing is there's also a section of "oral history," personal reminiscences, of people's most exciting CBGB's experiences, and included is the following contribution from Jon King, the lead singer of Gang of Four, about attending the club during a short period when he was in New York in the mid-'70s: "I went there almost every night in October 1976 and saw everyone -- the Ramones, Television, Blondie, even the Jam when they came over from England. The best show was Richard Hell. The torn clothes and punk look that Malcolm McLaren stole for the Sex Pistols, the mumbled bollocks, the artiness of it all, the intensity -- awesome." [posted December 30, 2005]

---

Richard is confirmed as giving a solo reading in the Purcell Room of the South Bank Centre (Royal Festival Hall, etc.) as part of the Meltdown Festival in London this June. This year's festival is curated by Patti Smith. The date for Richard's appearance is Saturday, June 18 at 8 PM.

Hell will also appear for a solo ninety minute public interview onstage at the Rock and Roll Hall of Fame in Cleveland on June 11, in conjunction with this year's CMJ festival.

Richard will be making quite a few appearances in the early summer and in the fall in support of his new novel, Godlike (see below), which will be in stores in July. Readings are free unless stated otherwise. The schedule of these dates is as follows:

CLEVELAND, OH, Sat Jun 11, time TBA, free to CMJ and R & R Hall attendees
90 minute public interview conducted by Warren Zanes at the Rock & Roll Hall of Fame, in association with the CMJ festival

LONDON, ENGLAND, Sat Jun 18, time 8pm, £12.50 GBP
solo full scale reading and book signing in the Purcell Room of the South Bank Centre as part of the Meltdown Festival, curated this year by Patti Smith (0870 401 8181)

NEW YORK, NY, Wed Jun 29, 7pm,
short reading and signing at Barnes and Noble bookstore, 4 Astor Place (212 420-1322)

NEW YORK, NY, Thu Sep 8, 7pm
short reading and signing at McNally Robinson booksellers, 52 Prince St. (212 274-1160)

SEATTLE, WA, Mon Sep 19, 7pm
short reading and signing at University Bookstore, 4326 University Way NE (206 634-3400)

SEATTLE, WA, Wed Sep 21, 7:30pm, $7, $5 members
full scale reading and signing at Hugo House, 1634 11th Ave. (206 322-7030)

PORTLAND, OR, Fri Sep 23, 7:30pm
short reading and signing at Powell's bookstore, 1005 W. Burnside (503 228-0540)

SAN FRANCISCO, CA, Tue Sep 27, time 10:00pm, $10
full scale reading and signing at Make-Out Room, 3225 22nd St. (415 647-2888)

SAN FRANCISCO, CA, Thu Sep 29, 7pm
short reading and signing at City Lights bookstore, 261 Columbus Ave. (415 362-8193)

VENICE, CA, Sat Oct 1, with Darin Klein (opening reader), 7:30pm, $7
full scale reading and signing at Beyond Baroque, 681 Venice Blvd. (310 822-3006)

WEST HOLLYWOOD, CA, Sun Oct 2, 2:30pm
short reading at West Hollywood Book Fair, West Hollywood Park, 647 N. San Vicente Blvd.
with novelists Trinie Dalton and Benjamin Weissman; readings introduced by Dennis Cooper

WEST HOLLYWOOD, CA, Mon Oct 3, 7pm
short reading and signing at Book Soup, 8818 Sunset Blvd. (310 659-3110)

NEW YORK, NY, Wed Oct 26, 8pm, $8, $7 students and seniors, $5 members
full scale reading and signing at St. Mark's Poetry Project, 131 E. 10th St. (212 674-0910)

The short readings/signings at the bookstores are free. We'll post the admission charges to the full-scale events as we get them.



The other major news is that in August Sire/Rhino will release a new compilation of Richard's top songs and performances, called Spurts: The Richard Hell Story. The CD is one that Richard has wanted to do for a long time, the best versions of his best songs, drawn from each of the albums/CDs he has made. There were no restrictions on availability, now that Hell has recovered the rights to Destiny Street, and because the record is being released by Warner's (which owns rights to Blank Generation). When Time appeared in 2002, some reviewers treated that collection as a "career retrospective," but it wasn't. It contained no performances from any of Richard's studio-recorded full-length releases -- neither the above-mentioned records, nor the Dim Stars CD (Richard's 1992 one-off made with Thurston Moore, Steve Shelley, and Don Fleming). Time was the best of Hell's available unreleased odds and ends: outtakes, live material, demos, etc. This new record is the unrestricted 21 finest recordings. All the tracks on the CD have been painstakingly remastered, and eight of them have been remixed (notably the Dim Stars songs). The earliest recordings are two Neon Boys songs from 1973, and the most recent is a song Richard wrote and recorded with Ivan Julian last year. Richard regards the collection as the finest single CD of his available. It contains two Neon Boys studio recordings, one Television (live), three from Time (including "Chinese Rocks"), four from Blank Generation, one, "The Kid With the Replaceable Head," from the Nick Lowe produced single on Radar, three from Destiny Street, five from Dim Stars, plus the 2001 re-formed original Voidoids' "Oh" (remixed with improved vocals), and the previously unreleased 2004 collaboration with Ivan Julian called "She'll Be Coming (for Dennis Cooper)." The booklet will contain rare and previously unseen photos, as well as a long interview with Richard by Robert Christgau and Carola Dibbell discussing every song on the disk.

Maybe the most entertaining literary exchange of the century: you have to read this unique and hilarious recent interview with Hell, in which he attacks the interviewer, at the prime literary ezine and blog Bookslut. [posted May 8, 2005]

---