re new cd release of Blank Generation in the UK:
to our fave review of it (from The Wire)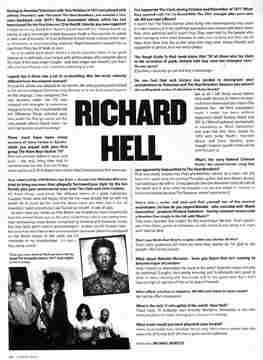 interview w/ Hell from Classic Rock (UK) April, 2000


Having co-founded Television with Tom Verlaine in 1974 and having played in the original Heartbreakers [with Johnny Thunders], you created a new wave landmark with 1977's 'Blank Generation' album, which has just been issued for the first time on CD in the UK. How do you now regard it?

It depends on my mood, but I feel it's served me well. It's a shame it ends up having to carry the weight it does because I made so few records; it's asked to bear a lot of scrutiny. I'd have preferred to have made a record every year or 18 months, as most recording artists do. 'Blank Generation' wouldn't be so significant then, but it holds its own. For a so-called punk album there's a lot of musicality there. It has good playing on it, definitely. I can't argue with all the people who complain about the style of the lead singer [laughs--said lead singer was himself], but that's effective too. It has its own means for achieving its ends.

Legend has it there was a lot of re-recording. Was the result radically different from the original concept?

It's true the album was delayed for six months. We were pouting and insisted to the record company [Sire] that they allow us to see if we could improve on the originals. I was comparing the two sessions when the CD was released and I thought I'd switch one song just for fun, but I could hardly tell the difference. These collector guys who prefer the first go round are the only people who've heard them--on tenth generation pirate bootlegs!

There must have been many versions of 'Love Comes In Spurts', which you played with your first group The Neon Boys back in '73?

That was entirely different music and lyrics--the only thing they had in common was the title. That one finally came out on a CD EP in Britain from [indie label] Overground a few years ago.

Your relationship with Britain has been a stormy one. Malcolm McLaren tried to bring you over, then allegedly 'borrowed your style' for the Sex Pistols; plus your controversial tours with The Clash and Elvis Costello.

All those things were kinda like different rooms of a giant nightmare. [Laughs] Those were not happy times for me. I was already fed up with my whole life in music by the time the album came out. After that it was all downhill. I hated everything, I was fucked up myself--it was all ugly. In some ways you could say that Britain has treated me as more important than the United States, but on the other hand there's also a very strong love-hate relationship there. Britain is inspired by America and American music, but they really don't want to acknowledge it--at least not till 20 years later--because they don't like to feel second hand or derivative. When I'm compared to the British bands of the same era, it's inevitably to my disadvantage--it's just a big, messy wreck!

You supported The Clash during October and November of 1977. When they opened with 'I'm So Bored With The USA' straight after your own set, did you take offence?

It wasn't fun! The Pistols did the same thing; they did everything they could to make it look as if all the stuff that seemed so new started with them, when they knew perfectly well it wasn't true. They were told by the people who were managing them what attitudes to take, how to dress, and that was all taken from New York. But at the same time they were always friendly and supportive in person, so it was sorta creepy.

The Rough Guide To Rock book states that "Of all those who lay claim to the invention of punk, Richard Hell may have the strongest case." Do you agree?

[Chuckles] I basically go out and buy a hamburger.

Do you feel that rock history has tended to downgrade your contributions to Television and The Heartbreakers because you weren't the undisputed centre of attention in those bands?

Not at all. I left those bands before they made records, so there's no way I could have the kind of role I had in The Voidoids. But I do think subsequent music I made has been unfairly neglected. I think 'Destiny Street' and 'RIP' [a 1984 compilation] are basically as interesting as 'Blank Generation'. And even the Dim Stars record [in 1993 with Sonic Youth's Thurston Moore and Steve Shelley], even though I hated it myself, I think will be well thought of.

What's the story behind 'Chinese Rocks', the classic heroin song that you apparently bequeathed to The Heartbreakers?

That was totally stupid, man. They planted their names on it after I left the band. It's a great song, but Johnny [Thunders, guitar] and Jerry [Nolan, drums] had nothing to do with it--it was basically Dee Dee Ramone's tune. He had all the music and a verse when he brought it to me and asked if I wanted to finish the writing because The Ramones weren't gonna do it.

You're now a writer and poet and find yourself out of the musical mainstream. So how do you regard Blondie having renewed success and a Number One single in the UK with 'Maria'?

They had a Number One single! On this recent tour! No shit--that's great! I saw Chris [Stein, guitar] at Christmas, at a little dinner party one night and I had no idea!

Don't you think that they're maybe a little too old for all this?

That's their profession, let them do what they wanna do. I'm glad to see people I like having success.

What about Malcolm McLaren--have you heard that he's running to become mayor of London?

Yeah, I heard. So where does he stand in the polls! Does the mayor actually do anything! [Laughs]. He's pretty amusing and is obviously very good at what he does, messing with the media, and he has good taste. But I don't have as high an opinion of him as he does of himself.

What effect, positive or negative, did McLaren have on your career?

He had no effect whatsoever.

What is the rock 'n' roll capital of the world--New York?

These days, I'd probably lean towards Memphis. Tennessee is my new favourite place. I've been driving down there a lot recently.

What music would you have played at your funeral?

Hmm. I'd probably have Sheelagh Bevan play. She's a local pianist who also does a lot of DJ-ing stuff. She has a great record collection.